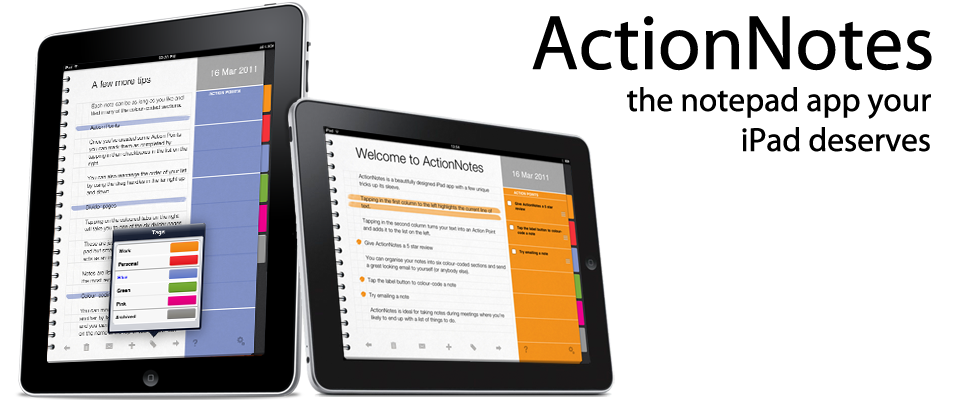 Overview
ActionNotes is a beautifully designed Note Pad with a smart, integrated To Do list.
ActionNotes was designed as to be intuitive and easy to use as possible. There's no switching between views or tools - just start typing. But it does have a few unique tricks up its sleeve...
Highlighting
Tap in the 1st column on the left to highlight the current line of text. Tap again to toggle it off.
Action Points
Tap in the 2nd column to turn your text into an Action Point (or To Do item) and add it to the list on the right. You can rearrange tasks by dragging them into the order you want and complete them by tapping in the check box.
Color-coding
Organise your notes into six color-coded sections. Smart divider pages act as indexes, listing each note with the most recent at the top. Just tap on the labels icon and choose a new colour for the note from the pop-up list.
Emails
Send great looking emails to yourself (or anybody else). Emails created by ActionNotes are fully editable before you send or when received - useful for amending contents before forwarding on for example. You also have the option to send notes as a PDF as well as, or instead of the HTML email.
Search
You can search through your notes by tapping the Search button on the index pages or by swiping any page to the right. The search results
Backup/Restore
Using a free Dropbox account you can backup and restore your notes at any time - useful if you accidentally delete something or want to get your notes onto another iPad.
ActionNotes is ideal for taking notes during meetings where you're likely to end up with a list of things to do, or for brainstorming sessions when you just need a way of getting your thoughts down quickly, then highlighting the important ideas and tasks.
Features
Notes
Tap in the 1st column to highlight important text or headings
Tap in the 2nd column to turn create an Action Point
Organize notes in re-namable color-coded sections
Built in help screens
Search - swipe any page to the right to bring up the new search function
Backup and restore via Dropbox
To Dos
Drag to rearrange
Interactively linked to your notes
Email
Create great looking editable HTML emails or send notes as PDFs
Use a default email address